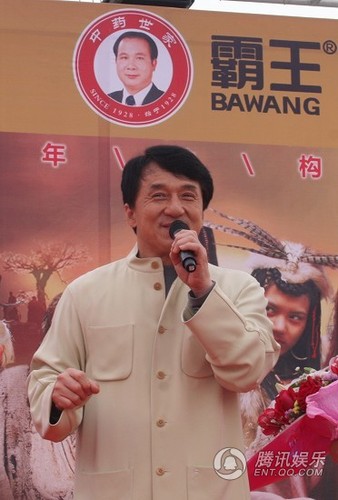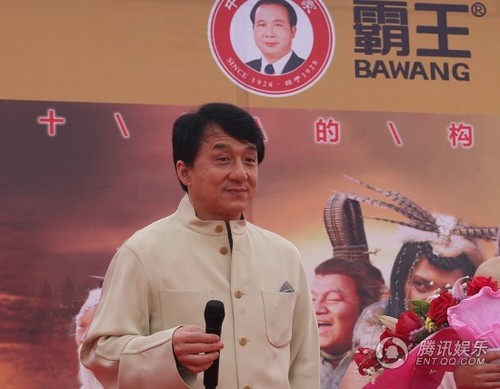 Source:
ENT.QQ.COM
I have only picked out a few to post - there are many more at the link.
LOS ANGELES January 27, King high-end men's once again working together to "Private teenager," Trust-Mart was held in Guangzhou tangxia massive third leg of a national tour. Jackie Chan is in person at the scene, with many viewers and fans close contact, to share "Private Game" behind the scene on you. Quite popular hot spot, very lively scene, "spectacular."

Lin Peng male fans have been photographed Seung Jun hug female fans have been "strong hold"

In the active site, Seung Jun, the new Seven Little Fortunes, Lin Peng and other major cast of the stage, so that atmosphere climax after another. Seven Little Fortunes, as Jackie Chan's disciple, brilliant performances the audience hooked. Film heroine is a newcomer Lin Peng, her live performance of "ouch" also brought a breath of fresh breath. Site also occurred in a small episode, singing the process, have male fans came to power to Lin Peng flowers, holds claim to the success of Lin P, but also calmly took out his mobile phone, proudly arm around his beautiful photographs, caused by the audience burst of Comedy. Seung Jun wonderful dancing is not giving the audience an eye-opener, which is a fluent Mandarin was greatly surprised, female fans frequently stage to present flowers and a very bold manner "strong hold" Idol, aroused the audience bursts of sensation.

Jackie Chan's career as a public-spirited volunteers donated movie tickets

Much attention, "Private Game" will release on February 14, while Jackie Chan is also a non-stop this time in the major cities of film advertising. Members of the public who heard about the day after another nearby, surrounded the venue will be packed, and even the distant bridge is also packed with spectators, "overlooking" the crowd, and some even climbed a tree adventure, only to see the Jackie Chan Big Brother presence. The appearance of Jackie Chan's older brother set off an immediate audience climax, Jackie Chan, Big Brother also very caring people who say hello to the crowd, "Everyone stood for a long time, it is tough! Overpass friends careful ah, standing at a height of a friend also careful ah, we should pay attention to safety ah! "

Jackie Chan has always been enthusiastic in public welfare undertakings, and keen to participate in various charity activities, but also very supportive of social welfare organizations. To show its support, Jackie Chan, together with Xiang Yu Group, for the Guangdong Federation of volunteers sent a 300 movie tickets; expressed great appreciation and admiration for his volunteers to promote social harmony in the efforts and contributions, and hoped that own film can send their warm wishes and encouragement, to add a happy New Year.

Jackie Chan's younger brother of the guide and support with added

Jackie Chan is also great interest to the audience introduced the "Private Game" shooting footage, conversations on the younger generation lead by the hand for me. Speaking of the actors after the election, Jackie Chan jokes beauty Linpeng very lucky. He disclosed that initially looking for an actress, they look for a lot of actresses. When he was back in the Olympic opening ceremony when the first saw Lin Peng, they found that she is looking for candidates he wants to go back immediately to the director, strongly recommended, and she became a heroine.

The tough training of the Chinese language Seung Jun momentum has also impressed him, because in the past in South Korea has been a lot of Korean people care, so Jackie decided to work harder for the Han Seung Jun, "want to help him one." According to reports, seven small blessing or a Jackie Chan from more than 20 million people chosen, talking about his own disciples, Jackie Chan is also very proud that they are skill everyone in our amazing host, dance, performing everything line. But their first day to shoot the scene having first played dead Jackie Chan, Jackie Chan brother said they gave great hopes that they can train for all aspects of talent, "in order to survive such a long time in the film industry some, like me, , "Chan says. He also stressed that the Seven Little Fortunes of dance highlights the best place is to incorporate a lot of Chinese elements, in his view, has a unique personality to come to the fore.
Source ENT.QQ.COM or
TRANSLATED