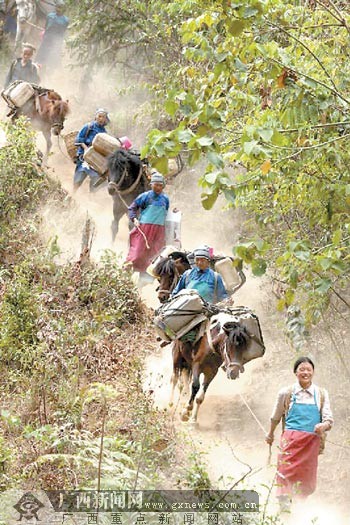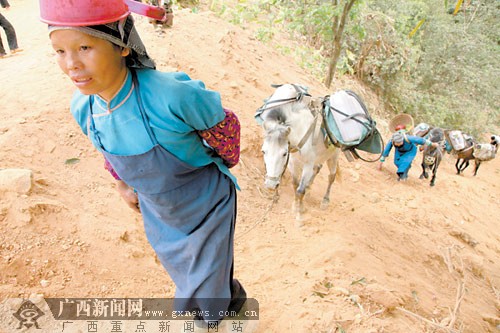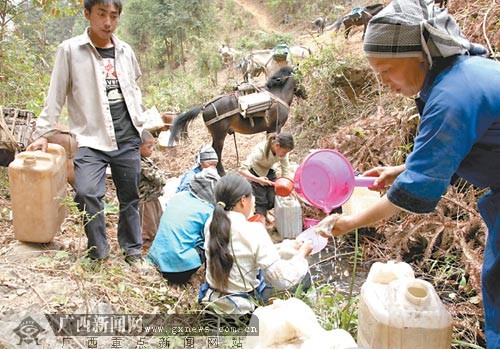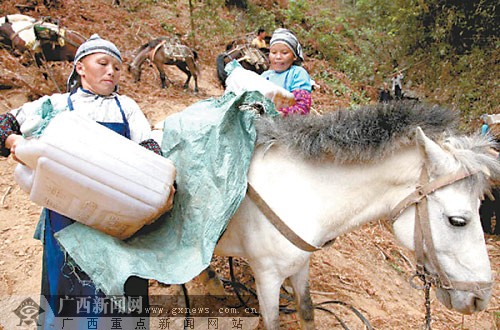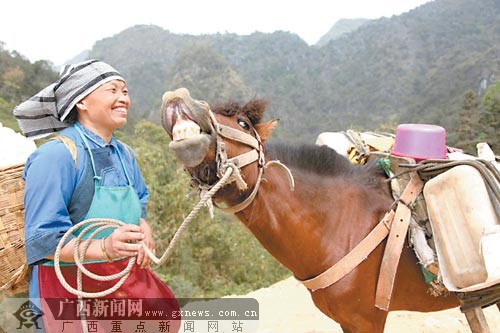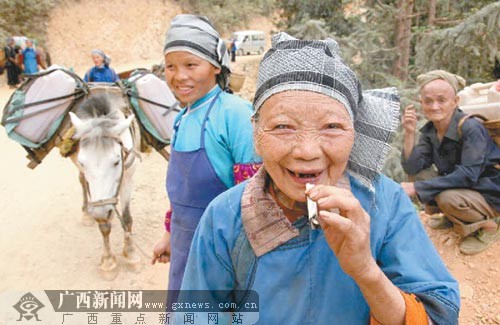 In Lingyun station Yaozu Xiang Ling Liu Tuen beginning of the village get, there is a Yao woman drought team caravan to find water. It is understood that since last October has been dry, this caravan from the home team to a dozen a day Qianma kilometers from the mountain to find water. April 1, caravan team dispatched a total of 20 horses more than 30 people, starting from 8 am, 12 noon to reach the township cemetery Village. Down to the more than 800 meters of the valley, finally found a natural water source.

It is reported that women get material Tuen caravan team primarily for their own home to find water to maintain life. After the advent of the drought, because most of the village men were out working, they would save themselves the burden of drought provoked. Caravan from one team to be 6 to 8 hours before the water transport home.
SOURCE:
GXNEWS.COM.CN
SOURCE:
GXNEWS.COM.CN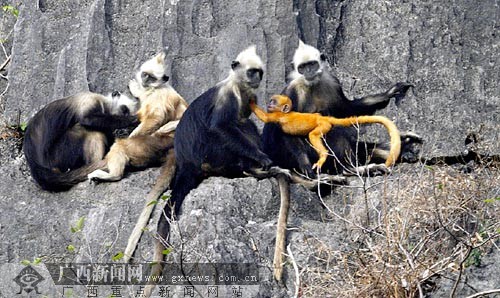 Guangxi News Network News (Xinhua correspondent HUANG and military) River drying up, lakes drying up farmland crack, coke dead seedlings, vegetation withered, animals, ... ... a result of famine, drought continued, the world's only distributed in Guangxi white-headed langur, the eastern black crested gibbon, wild "Guizhou Po Orchid" populations such as world-class rare animals and plants has also been a serious threat to the survival of the urgent need to take effective measures to rescue.

Protected areas

Rare plant and animal life worrying

Recently, autonomous organizations, animal and plant experts, Forestry Department of Guangxi further west, northwest and southwest of the serious drought of all nature reserves, field surveys and to assess the drought situation in protected areas. April 3, the reporter with the staff of the forestry sector deep into the white-headed langur Fusui Ballet basin nature reserve, on the ground about rare animals and plants subjected to drought.

It is understood that there are national level protected areas to protect animals, white-headed langur group of 400 white-headed langur 20. Reporter on the scene saw, just now there are many monkeys were born, the body of young golden monkey. As the nature reserve long drought, many trees growing on the cliffs has been dead. In order to eat in the mountains looking for a few remaining leaves of the tree, white-headed langur to spend several times more than the original time foraging in the mountains; as lack of food, to competition for food between monkeys fierce fighting took place from time to time . According to protected area staff to reflect, as strong and healthy competition for the monkeys, however, many monkey, and females are often unable to eat, or even monkey mortality event. Forestry department staff told reporters that because the majority of mountain protected areas have gradually dried up, and now there is not much they can quench their thirst for water monkeys, some monkeys often compete for water and habitat occurrence of food fights and casualties.

It is understood deeply the effects of drought is not the only place Fusui Nature Reserve, this white-headed langur This kind of rare animal, according to the situation have been informed that the major nature reserves in Guangxi extensive duration of the affected area long, frozen by the disaster than the 2008 Southeast Asian protected areas, there are now many large areas of rare plants dead, a large number of rare and endangered animals dying situation. For example, now exists only in the wide world of orchids Yachang National Nature Reserve "Guizhou Po Orchid" serious water shortage due to suspected dead stocks; Chongzuo the white-headed langur in reserve, never close to human The white-headed langur in order to drink water began to run into the village in search of water; just re-found the national level to protect animals, "the eastern black crested gibbon", "langurs" and is under the water to drink torture; the national level to protect animals, "Yao crocodile lizard" also face difficulties due to gully stop ... ... If the drought continues, Wild animals and plants will have a greater impact, there may be a large area or a large number of animal and plant death, will eventually change the composition of biological diversity, threaten the local ecological security.

Expected post-disaster aid funds

Be as high as tens of millions of

Faced with an increasingly severe drought, Guangxi forestry administration departments at all levels and nature reserve management institutions to take a variety of drought emergency measures to organize the masses to use sprinklers, who pick, pack horses carrying water, etc. into the mountains, on the hard-hit Plants were sprinkler rescue of the wild animals and artificial water and bottled water. But these efforts in the face of rampant drought no doubt utterly inadequate, recovery is expected to expand scientific disaster wild orchid populations, wildlife rescue, etc. would require a total funding will reach tens of millions.

Please lend a helping hand

Rescue a world-class rare animals and plants

To help these lovely creatures and beautiful plants animals tide over the crisis, Guangxi, Wildlife Conservation Society issued a public emergency the whole society initiative, called attention to the whole community in the drought, aid humanity, but also out of loving again assistance, and actively participate in these world-class ambulance Guangxi rare wild animals and plants "baby" operation, leaving a natural gift for future generations and a precious legacy.

To April 3, the Guangxi subsidiary of Wildlife Conservation Society Wildlife Conservation Society at all levels, and primates, reptiles, and three professional Camellia Committee has responded positively to the call launched by the region members to participate in contributions; Guangxi Green Alliance also joined environmental groups in Guangxi, colleges and universities actively participate in donation activity.

Donate time to April 15, 2010 only. Donation Hotline :0771-2266509 (except closing days, opening day); contributions account: Society for the Protection of Wild Fauna and Flora, Account: 45001604555050503091, Bank: China Construction Bank branch in Nanning Yong Zhou.

Newspaper donation hotline :0771-3976311, "Love Run arid" Account Name: Modern Al-Hayat, account number: 45001604361050504167 Bank: China Construction Bank branch in Nanning City of democracy, in the remarks column marked "donations" use.
SOURCE:
GXNEWS.COM.CN