Jackie attended a charity event today in Beijing celebrating the anniversary of
Haicang Charitable Foundation
. During the event they looked back over the past year's events, interacted with children who were a 'mini press' asking questions and taught 'Dragon-style' kungfu.
Later Jackie answered some questions from the 'big' press about the upcoming Spring Festival which is where the 'explain' part of this blog title comes in. There have been questions asked about exactly what Jackie was going to do for the spring festival. I reported that he had recorded a version of Guo Jia for the show with the New Seven Little Fortunes but the internet has been buzzing on and off since then with questions about a comedy routine with Zhao Benshan or a skit with New Seven Little Fortunes based on 'Little Big Soldier'. Today Jackie explained that he has been approached by the organisers to do something but that with Zhao Benshang still recovering from illness that will not take place. In addition a skit based on 'Little Big soldier' (apparently there were 2 separate ideas in the works) has come to nothing with both sides now not wanting to do anything.
Then we come to the moaning part. Jackie, speaking about the charity event, said that children as recipients of charity had largely been ignored and that if he could choose his career he would most like to be a traffic policeman. He said that the traffic in Beijing was horrible. There are too many cars and people do not pay attention to the rules of the road. If he was a traffic policeman he would fine every one with special penalties and use the money for charity! LOL Jackie, Jackie, Jackie!
Now we get to the fun part:
PICTURES!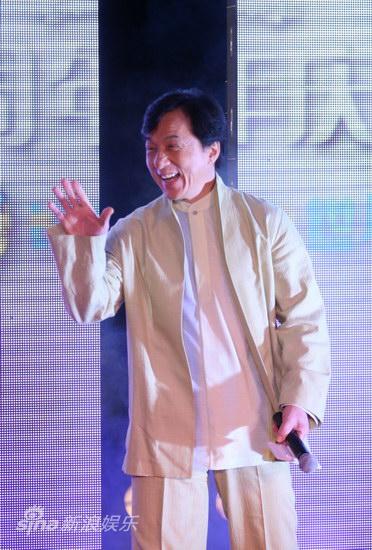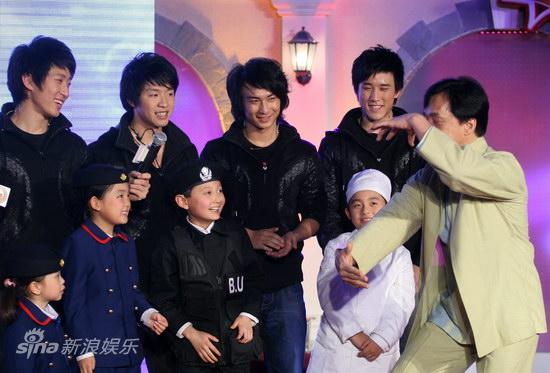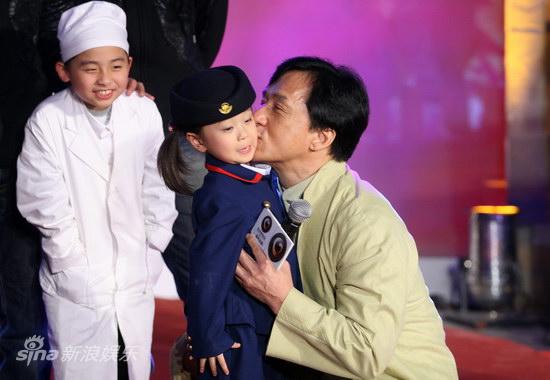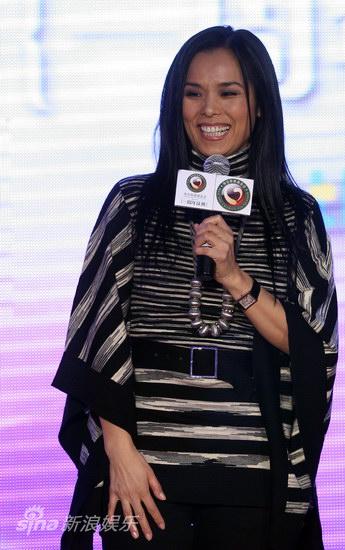 SINA.COM
JACKIE WANTED TO BE TRAFFIC POLICE:
This year's Spring Festival Evening, Chan was invited to his friend Zhao Benshan sketches appear, but for various reasons did not take place. Yet to be determined later this year, recovering from illness Zhao Benshan partner, Jackie Chan, will cooperate with Zhao Benshan is the focus of everyone's attention. Yesterday, Jackie Chan in Beijing to attend the event, said, "Although Spring Festival Evening crew approached me, but now nothing certain."

About Spring Festival Evening

Very much like the cross-bank performance

Prior to exposure of Jackie Chan on the network next year, Spring Festival Evening Show, "Jackie Chan's older brother to be played on the Spring Festival Evening skit called" Private Game "is a funny musical comedy drama, is also another skit scripts form of singing." "Private Game" is a preparation for Jackie Chan a 20-year blockbuster film, how could it become a comedy? Yesterday's confirmation on the matter to Jackie Chan, Jackie Chan said that the two sides are now determined nothing, so do not easily answered. However, he said that he likes to cross-bank performance.

About Charities

Blame themselves insufficient attention

Yesterday, the world held in Beijing, such as an anniversary celebration Haicang Charitable Foundation charity-cum-small stand to start the ceremony, Jackie Chan, blame themselves for adults only concern the past, but paid little attention to the children. Chan said that if they could choose their own career, he most wanted to be traffic police, "Beijing's car too much, and the roads can often see the driver does not abide by law to pay, if I were when the traffic police, special penalties for such an initiative would person, the fine money to use charitable cause. "
source:
SINA.COM
or
TRANSLATED
LOS ANGELES December 28, 2009 afternoon, the sea warehouse Charitable Foundation Anniversary of the establishment of a public-cum-small-claims action in Beijing, "such as the World" held at the launching ceremony. International movie star Jackie Chan, Yvonne Yung Hung wife, singer Wei Wei, Wang Zheng appeared together with the Fund reviewed the activities of the site over the past year charitable events, and with "little press corps" to question and answer interaction with children to have a cordial exchange, but also to teach the kids playing the "Dragon-style" shadow boxing.

Organized by the well-known host the spring of Ni-chaired an international movie star Jackie Chan attended the Seven Little Fortunes brought jointly review the past year the Foundation charitable events, and with "little press corps" to question and answer interaction with children to have a cordial exchange, but also teach children to play played a "Dragon-style" Tai Chi Chuan. Jackie Chan's older brother on his own charitable cause for the views and attitudes and the presence of friends in the media were also conducted in-depth exchanges. Jackie Chan spoke: "In the past we are always concerned about the adults for the charity's view, this sea-store charitable funds raised by 'public good little idea,' Let us for the first time expressed concern about the child's good. I think this event not only for our provides a new direction on philanthropy, but also makes us aware that the concept of charity should start from the child. "

The singer Wei Wei with his three sons, were at the event to share with you child's education from childhood stars Charity Thanksgiving heart experience. The best female singer singing the title of Wang Zheng in cooperation with the blind pianist performing the classic song "We are all good boy." Finally Jackie Chan, Yvonne Yung Hung his wife, Wei Wei and other celebrities and the Haicang Charitable Foundation leadership positions handprints pressed together to start the sea-warehouse Charitable Foundation charity small claims action. Zheng Fude / text and map
source:
SINA.COM
or
TRANSLATED
This is the
Haicang School Project
And just reading on the site news Jackie also participated in a 20th Anniversary dinner on the 22nd of October this year.
Autumn in October, is the harvest season, Haixin Group also welcomed the 20th anniversary of her birthday. October 22, "20th Anniversary Celebration Haixin Group Charitable Fund-cum-sea-store launch" ceremony was held in Taiyuan Jinci State Guesthouse.

Shanxi Province, the leadership of Zheng Li-wen, YANG, and, Hu Ping, Zhang Ping, Guo Xiao, Removing the United Kingdom to ensure that policy to attend the opening ceremony. LI Zheng-wen, Hu Ping, Gao Wei-dong, Pei Liang-Jie delivered speeches respectively. Jackie Chan, Fan Bingbing, Yu Quan combination, Chen Kun, Han Xue show business stars such as the establishment of the Foundation expressed warm congratulations.

United Nations Goodwill Ambassador Jackie Chan Charitable Foundation announced the official launch of the sea stores. And pointed out that the Foundation's first charity project in the next 10 years to help 1.2 million yuan a year from the difficulties of living in Shanxi Province 200 old Red Army, Eighth Route, the old party members and families to develop production and improve their lives.

Haixin Group, a long-standing philanthropy, the Foundation Chairman Li Zhaohui told reporters: "As one of the sponsors of Glorious Cause, from the Haixin Group, founded, we will - straight to charity作成Haixin Group, an important component of social responsibility part. Since 1990, Haixin Group accumulated to nearly 2 billion on social contributions, donated schools, rural health clinics, homes for the elderly, for the surrounding towns and villages to drill wells, bridges, roads, for the poor residents, the elderly and the disabled, donated money and goods. May 2008 Sichuan earthquake, Haixin Group is funded contributions to hit 12.19 million yuan. Through years of practice in the field of charity, we are also aware that, charity is also a highly professional: working not just money and things as simple as that, but it needs careful to run. to get every penny donations can play a greater role, not live up to the donor's good intentions to attract more people into charitable causes, which require specialized agencies and professionals to manage. Therefore, we decided to set up Haixin Group, Mr. Li Haicang, former chairman of the non-public offering, named after the Foundation --- 'Hai Cang Charitable Foundation' to a more professional team will Haixin Group's luster the cause of persistence to do so and make it flourish. Haixin Group also rely on the influence of efforts to mobilize more social resources and contribute to the community. We believe that the 'sea-warehouse Charitable Foundation' will not only promote the company's progress, but also shows that the sea Xin Group's commitment to corporate social responsibility for the confidence, but also to my father, Mr. Li Haicang best way to commemorate. "
HAICANG.ORG NEWS