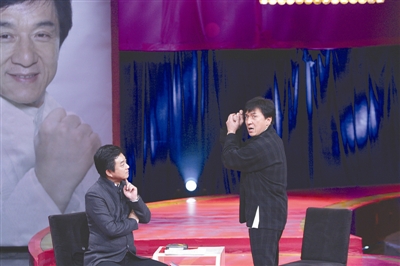 The day before yesterday, the film kung fu star Jackie Chan appear on CCTV's famous column, "Art and Life." For art for several decades, the face of Jackie Chan's Big Brother audience, talked about his own experiences and insights for art twists and turns, to share a sweet and sour in Kula.

Establishment of the new Seven Little Fortunes? Is to develop all-rounder

In recent years, Jackie Chan will always be a few side saddle before the horse after the young man's shadow, they are the new Seven Little Fortunes. Talking about the establishment of this "small group" of the mind, Jackie Chan has a belly to say, of course, is the main successor to find one of the purposes. He said that his past is very selfish and would they like the best martial arts action movie that only he himself, who put his defeat, he told more than Sammo Hung, Yuen Biao than now. Slowly a long time, he came to realize that we all should be good fishes, should be flourishing. "People will be the old original, previously not recognize the old." Chan said: "The next generation will come out to play or not acting, or will be acting and not playing, will play a show will not do martial arts guide, 3 City will not do editing. I now count the entire performing arts sector will be compiled, directors, actors, stage art, design, direction, photography, lighting, editing, and less than three individuals, two. "As a result, Jackie decided to establishment of the new Seven Little Fortunes.

Engage in philanthropy? The people are very comfortable with

In recent years, Jackie Chan, Jet Li, etc. come up with a lot of time for each charity. Recall the young and frivolous, himself, Jackie Chan somewhat bitterly painful. He said: "In the past has never read the book, Takeyuki a sudden one night, became a multimillionaire. I am 19-year-old is already a multimillionaire, and at that time each day doing is to buy luxury goods. Morning and hit a car night, hit a car, the next day to buy a new car, that is, money. Later, married with a big ticket classes, followed by a triad like. I am hated the way she looks then. "Chan said that he participated in the public interest later, it was found that there are so many people, unfortunately, he had been too happy. And he said he has done a public service, the whole people are very comfortable buying luxury goods is more than comfortable to sleep all day, sleep like a baby. Jackie Chan says he is now doing is to repay and thanksgiving. "With great love, we have a harmonious society as a whole."

Do the old xenophilia? Own culture to be praised

Now many young people than to wear clothes, wait for them stained with English letters. However, Chan said, are wearing out on my own Tang suit, he sent gifts are also in Chinese things. "We have 1.3 billion people, we need to promote our culture, do not always xenophilia, Chong Japan, South Korea Chong, we have to worship in the. In a foreign country, said a Chinese kung fu, that is Jackie Chan, Jet Li, this is both hands out of our own The. "Chan said that in the absorption of other people's cultures, we must also hailed their own culture.

Cun apologetic parents? Death is not around

Jackie Chan says that there were already a big star, he is very rich, but also helped his mother ironing clothes consulate. At that time, Jackie Chan's mother, how old are 70. When a reporter interviewed her, the elderly, said, "He is him, I am me." A big star Jackie Chan to see his mother, Consul to come out and pick him up. Chan said: "The whole Consulate when my mom was the Queen Mother who, like everyone to bow to her." However, talking about his parents, Jackie Chan full of miserable and regret that the two old man died when he In the filming did not sit beside them. "You said I was not filial piety or filial piety? I do not know. But I believe I understand my father and mother should be, really."

Treated Jaycee Chan? Zhizuo had one thing right

Jaycee Chan gives up his U.S. citizenship, joined the Chinese nationality, for the matter, Chan said: "I am now whether he is his own to give up, not me. He asked me can do so, I said good, because we are not in order to went to the United States to get U.S. citizenship. "Chan said, because a child did not have time to take care of her son, I feel unfair to him. But he said he was only doing right, that is, to meet with his son on a speak Mandarin, so he is now talking a very good Mandarin. "This is the only thing I do the same thing, the other has not done right."

Jackie Chan-day visit to Shan

"International night" Jackie is very busy, he was a day very full. At the scene, the host Zhu Jun, a Jackie Chan's message read: "6:00, suddenly woke up, half awake. 8:45, Peace Foundation President's visit. 9:30 see the Deputy Prime Minister, he said that an hour of English I understand nothing. 10:30, visit the international primary school. 12:00 lunch. 14:00 University honorary doctorate awarded to me. 16:30 back to the hotel received five interviews. 19:00 to the airport fly in Thailand. 22 points off the plane and dinner. 23.00 , hotel pick up, tomorrow back to Hong Kong, 24.00 Zaoshuizaoqi. finished after the one who sent him text messages that do not return, and Zaoshuizaoqi ... ... "
Source: Article and Photo -
SINA.COM
or
ORIGINAL