The first news reports about Jackie's reactions to assisting with the cleft-lip surgery in Vietnam last week are filtering through.
Jackie is reported as saying:
I was responsible for pulling the muscles to help doctor and use the gauze to stop bleeding while cutting. Albeit a little work, but each one must be very careful and the hand movements very steady, just a short 45-minute surgery, and now I am tired - body muscle pain, limp. Just less than a hour of operation, it was thrilling for me to see, but seeing the completion of a child by a cleft lip surgery returned to normal without missing face, the kind of feeling can't be described. When I gave the child to the mother I had tears of gratitude in my eyes for the great maternal love. Watching her feed the baby and seeing the child's confidence return no matter how I feel it is worth paying. "
Jackie also said that he felt nauseous looking at his dinner that night and couldn't eat! (I don't think raw steak was a good dinner choice - Poor Jackie!)
Jackie Chan said, "In just 45 minutes to make children regain their confidence, I am very happy to see children of different nationalities to reproduce the smile, Operation Smile to help a lot of people - hope that in Asia, China and other parts of this event more community will be more harmony, and strong." And the photo of Jackie Chan's embrace of the baby's also appears warm and moving.
SOURCES:
Netease:
LINK
and
TRANSLATED LINK
Xinhua News:
LINK
and
TRANSLATED LINK
ENT.NEWS
LINK
and
TRANSLATED LINK
Subao Net:
LINK
and
TRANSLATED LINK
Some pictures: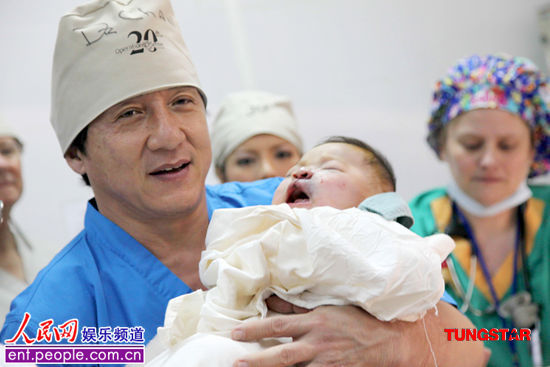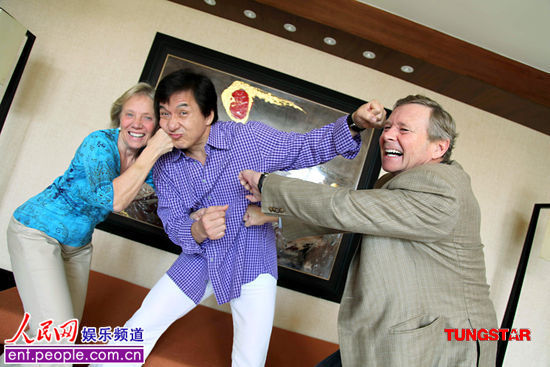 Jackie with Bill and Kathy Magee Founders of Operation Smile
(Jackie was assisting Bill Magee during the surgery.)
The baby reunited with his mother after the surgery
Pictures @
SOHU.COM
and @
Zing.vn
There are more photos and coverage at
jackiechan.com