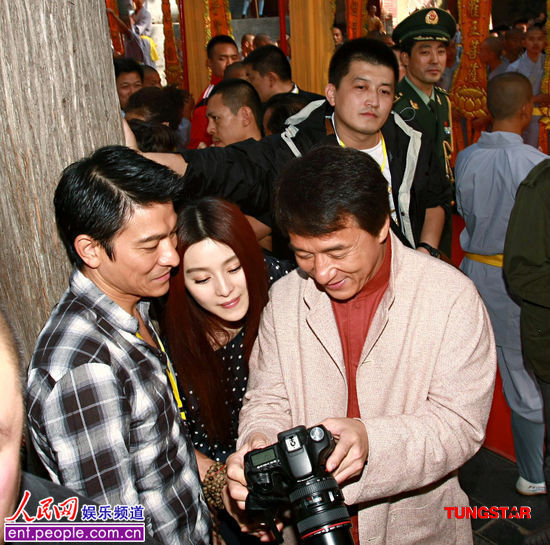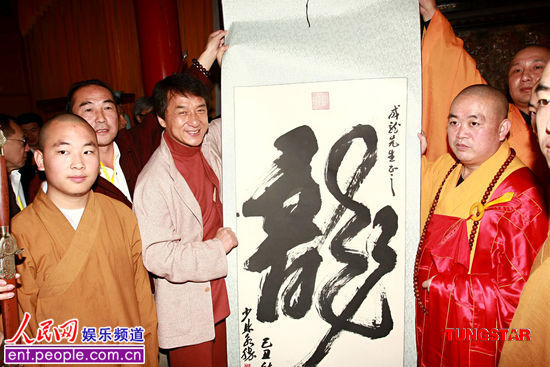 Jackie receives a personal calligraphy of the character 'Dragon' from the Abbot.
(See quoted article below)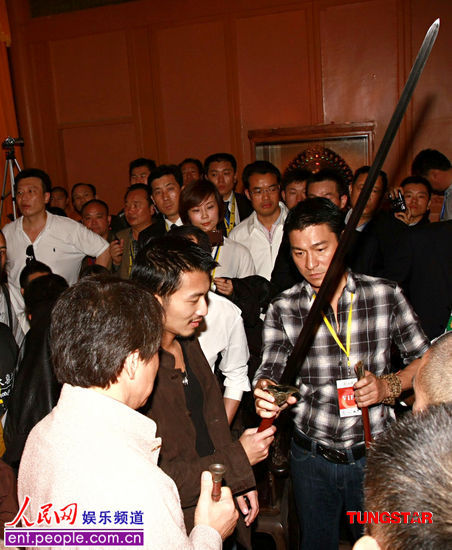 NETEASE
SINA.COM
Netease Entertainment News from October 25 Directed by Benny Chan, Corey Yuen directed even hand, by Emperor Motion Pictures, Film, Huayi Brothers co-cook's new film "New Shaolin Temple," Although officially the end of filming, but the three main characters Jackie Chan, Andy Lau, Nicholas Tse could hardly wait to take the lead in Shaolin Temple abbot Shi Yongxin's "abbot room" trial within a sword, for the film to a warm-up fight first. Jackie Chan is more on the spot have been abbot of the artworks, received a write "dragon" character of the calligraphy and painting as a souvenir, it means the dragon kung fu, so that if the older brother by the Long scared.

"New Shaolin Temple" and a group of actor Jackie Chan, Andy Lau, Nicholas Tse, Fan Bingbing, Wu Ching, Shao-Qun, Baibing so recently in Emperor Motion Pictures company boss Albert Yeung, led, in the history of Chinese martial arts with millennium held in the Holy Land released will be apart from a sealed door, personally abbot entertain trans-pacific in the "abbot room" behind closed doors within a short Syria prayers recitation.

Public actors for everyone abbot hall listened to prayers, recitation, and about the history of Shaolin Temple. 华仔more handheld abbot blessing of the Buddha bead with Jackie Chan, Ting Fung while listening Road, side of the village, its duties inputs.

Although Syria is only a short ten minutes, but a public actor has been abbot of the VIP-style hospitality, and thank you for coming all the way visit the Shaolin Temple abbot and prepared a five to share a collection of GU Jian-King boss Albert Yeung and several protagonist, and invite you to stay in the roster signatures retained Memorial Temple.

For the abbot donated by the GU Jian,华仔and Jackie Chan, Ting Fung, Wu Ching, etc. are all interested in, we put it down to the GU Jian, and Masaoki big hair, Da Huoer like to see children as favorite toys, like the first time to get in the hands of toys, shooting used to move the play director Benny Chan and Corey Yuen has two pairs of GU Jian-a sense of curiosity. You have a word, I am a language and opt for Lunjian make abbot room Leighton change martial arts General Assembly, the scene of harmony and fun.

She acted in many roles in the past华仔paladin, took over the abbot donated by the GU Jian, the effortless pull out of Jiang Jian, a show of hands every move she makes, not only so that Fan Bingbing stared, even the side of Ting Fung and Ba Jian Wu Jin is also a chain of chic华仔skill attracted, for华仔born paladin style envy. Temple instant sword trial scenes pictures one after another. Great effort has been and remains interested in Ting Fung seen华仔grace the sword after playing to Minato trouble, simply to pull out their own a GU Jian, experience the charm of this GU Jian. Jackie Chan, GU Jian-right hand of power domains made the most sense of fun, and the abbot had been opened with the taste front, GU Jian-blade, more hands Look at Jianfeng cutting edge.

For the abbot of this thinking, we would be very appreciated,华仔said: "From the abbot received the GU Jian-hand, he said to me, do not look at this sword for weapons, depending on it as a quiet thing, so you will know better cherish it, abbot remark implies substance, as if telling everyone to learn, message to go, and everything will not persistent, this gift is really interesting. "

Although not join Lun Jian Fan Bingbing, but Jackie Chan and华仔have not let her out, and when the abbot would remain to pass trans-pacific signature roster,华仔, Jackie Chan and director Benny Chan also Bingbing side to take care about you Lunjian while, even the specimen signatures also studied some, the film is not shot, as if a person has a sense of belonging as.



Good play behind, when we Lunjian some, the abbot will be a written personally by him on the "dragon" character calligraphy gave Jackie Chan, implies that he is the dragon kung fu. For the abbot of this "gift", Jackie Chan is not only put it down, a little bit surprised and flattered. Jackie Chan can not help, said: "This really is a rare gift, abbot personally pick up a pen, good happy, abbot lifelike pen style is rarely seen."

It is understood that in March 2006, when Russian President Vladimir Putin visited the Shaolin Temple, although the abbot himself had received, but also not to mention the word abbot, for his own handwriting, showing respect for the abbot of the Jackie Chan has increased, which makes Jackie feel more excited, more Shaolin Temple abbot agreed to re-visit the next, and abbot tea Taoist scriptures, and then go into the story of the history of Shaolin.

Jackie Chan and华仔, Ting Fung, Wu Ching, etc. enough, just wait to revisit the tube dithered assistants for their indoor scenes photographed in the abbot, Shaolin Temple hurriedly turned around and was abbot blessing, but also each get a.
NETEASE
or
ORIGINAL TEXT