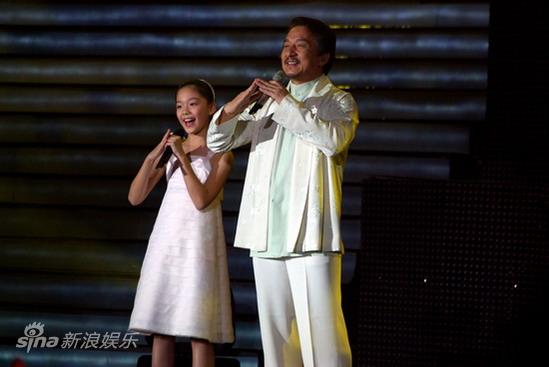 SINA.COM
Jackie sings Guo Jia last night at the basketball stadium to celebrate the Chinese People's Insurance Division 60 years.
SINA.COM translation
HERE
, and original text
HERE
A little about Jackie's connection with Chinese People's Insurance:
Jackie Chan's finale of the National Day participants on the behind the scenes bit by bit

That night, Jackie Chan finale appearance. He said that last year when a major earthquake in Sichuan felt very anxious, they are in the help of security down to the affected areas, so voluntarily assume Ambassadors. The Chinese People's Insurance of CEOs also tells the story behind them: "May 14, 2008, Jackie Chan in connection with the front staff, expressed his feelings of urgency, did not expect every other day, Jackie Chan on his own" package Aircraft brought more than 150 million in supplies flew to the disaster areas. Soon after, he again went to tent schools for the children class.
SINA.COM translation
HERE
, original
HERE
.