The 15 items up for auction at the Bazaar Charity night auction have been unveiled. Jackie has donated 3 items from his personal collection. Other items range from jewellery to Zhang Yimou's own commemorative book from the Olympic Games.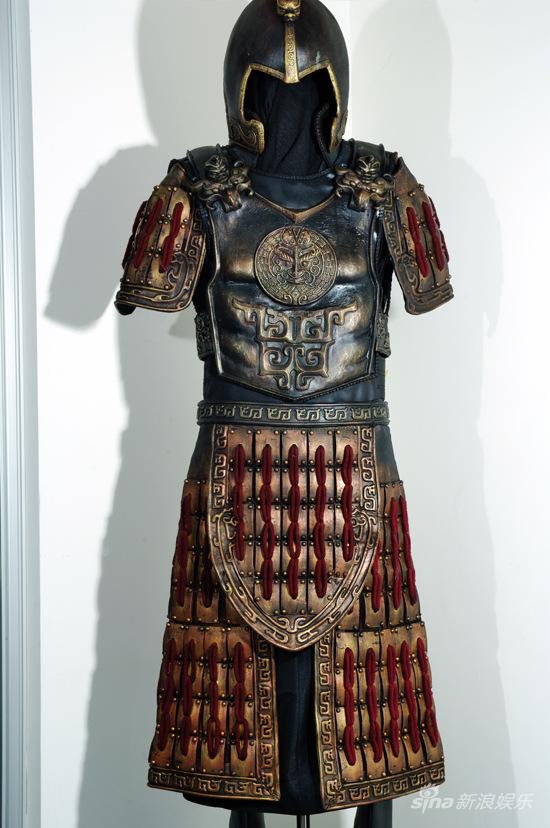 ENT.SINA.COM
Jackie Chan movie "Myth" Private Collection props armor



Mr. Chan is a Chinese society, a well-known influential actors and directors, is China's film star, is also an international martial arts film star, and its mainland China and Hong Kong and other Chinese-speaking regions of high reputation and influence.

This piece Jackie Chan movie "The Myth" private collection props armor, is a 2005 Hong Kong director Stanley Tong, Jackie Chan, together with the elaborate became the year's most epic box office hit film "The Myth", the great Qin played by Jackie Chan general of the costumes. The film shot in Gansu Yellow River Stone Forest, when the surface temperature of up to 60 degrees Celsius every day, Mr. Chan was wearing a pair of the number of pounds of armor, the completion of many difficult moves. As the hot weather, Mr. Chan during the filming one day in need of replacement sets of armor, but one of which has been China's Military Museum permanent collection. To this end, the auction of personal items rated as Jackie Chan Collection.

Jackie Chan's personal collection of on-site auction

Jackie Chan's armor in movie

Jackie Chan is the most influential actor and director in the Chinese society.

The armor is the outfit of Jackie Chan when he starred in the movie.

Another armor is being kept by the Chinese Military Museum.
ENT.SINA.COM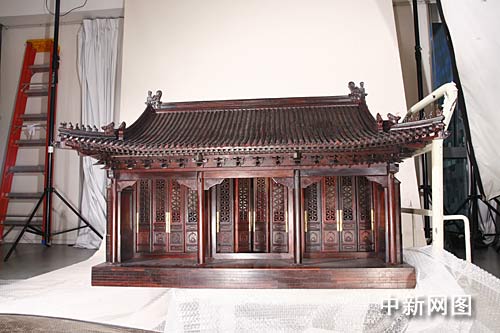 SANDAL (ZITAN) WOOD MODEL HOUSE
CHINESENEWS.COM
Red sandalwood, learning called "Zitan wood", which is the world's rarest and most valuable of the species. Red sandalwood products, excellent material, since ancient times, there Meng Hao-ran, "Hun crumbs into the red sandalwood this text for Pipa Sheng get into the cloud" as evidence of the liangzhou words.

The pieces of red sandalwood Crown Hall building models Home Delivery length 124 centimeters wide and 83 centimeters, 79 centimeters high, to Ming and Qing Dynasties four items, five products based on wind-room houses, government officials, quintana with precious hand-made of rosewood. National Palace Museum researcher Hood Health Description: The wind-room three-bay, Xieshan Ding, main ridge of the beast at both ends of ridges decorated swallow, hanging ornaments hang spinal animals, four corners were immortals and five beast. Front of the gallery is located, Liang upload brackets, double rafters along, and vividly depicts the official delivery service Temple during the Ming and Qing architectural style. Gallery after-loading five wipe screen door, every four, every fan with three cross-6 Carpal Ryoka decorated windows heart, the lower ring embossed moire sash. The whole works, complex structure, fine workmanship, has a very high artistic level and value for collection.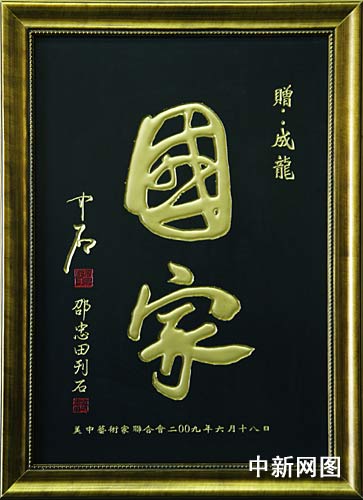 JADE CARVING "STATE"
CHINESENEWS.COM
Fiber jade is a little-known mineral, and carries the Yangtze and the Yellow River at depths of between the Qinling Mountains, this jade buried deep underground, soft, such as glue, once extracted, rapidly becoming dense hard, texture fine, moist sheen so far not found in other places, and valuable for collection.

This fiber jade carving "state" size 86cmx65cm, DragonVenture essence of Chinese jade discoverer fiber, life-long commitment to the jade carving Shao fields, in particular, sculpture produced and presented in the Jackie Chan's works. Jackie Chan brought his work name artists in the three places for the new China was founded 60 years of well-built gift - A song "State" the same. Shao Tian carved jade musical instruments, was Li as the "best in the world stone Qin," work "87 immortals volume" has won the highest rating the United Nations Fourth Conference on Women. This piece is also a rare collection treasures.
CHINANEWS.COM