Today Tsinghua University, Beijing celebrated 100 years of providing education.
An extract from
Wikipedia
gives the following brief history:
The Tsinghua College (清華學堂 Qīnghuá Xuétáng) was established in Beijing, China, on 22 April 1911 on the site of a former royal garden belonging to a prince. It was funded by the Boxer Rebellion Indemnity Scholarship Program, which consisted of unexpected surplus money from indemnities China had paid the United States following the Boxer Rebellion. It was first a preparatory school for students later sent by the government to study in the United States. The faculty members for sciences were recruited by the YMCA from the United States and its graduates transferred directly to American schools as juniors upon graduation. In 1925, the school established its College Department and started its research institute on Chinese Study.

In 1928, the authority officially changed its name to National Tsing Hua University (NTHU). During the Second World War in 1937, Tsinghua University along with Peking University and Nankai University, merged to form Changsha Temporary University in Changsha, and later National Southwestern Associated University in Kunming of Yunnan province. After the war, Tsinghua moved back to Beijing and resumed its operation.
Jackie sang a song with Tan Jing and both Lucky 7 and the JC-Girls also performed at the celebrations.
Some photos from Weibo:
(Source embedded on the photos)
Jackie behind the scenes
JC Girls
JC Girls and Lucky 7 with Jackie
---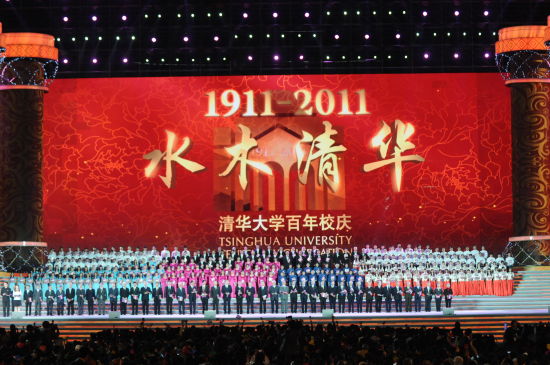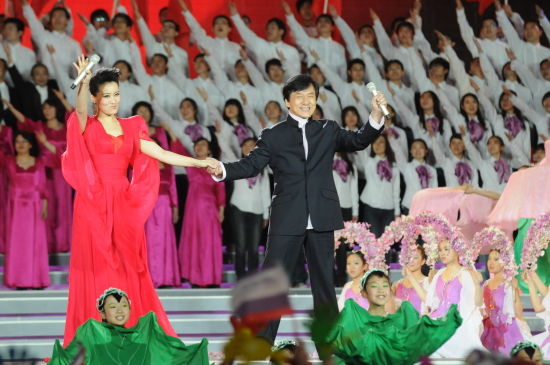 Tsinghua University usher Centennial. More than fifty thousand Tsinghua alumni from home and abroad, and the teachers and students together to celebrate their alma mater years birthday.

April 24 evening at eight, "Tsinghua" Centennial variety show held in the square in front of the main building of Tsinghua University. Party into "water" and "Wood", "clear", "China" four chapters. Thousands of students, alumni will be on hand to watch. Wu Xiaoli, will serve as party hosts well-known host, Gao Xiaosong, Shui Mu Nian Hua, Li Jian and other musicians who graduated from Tsinghua University, one by one on stage, singing birthday for their alma mater. Gao Xiaosong sing their classic songs in which the campus "at the same table for you," Li Jian, singing his masterpiece, "Legend."



---



清华大学迎来百年校庆。五万多名来自海内外的清华校友,和在校师生一起,共庆母校百年生日。

  4月24日晚八点,"水木清华"百年校庆文艺晚会在清华大学主楼前广场举行。晚会分为"水"、"木"、"清"、"华"四个篇章。万名师生、校友将到场观看。著名主持人吴小莉将担任晚会的主持人,高晓松、水木年华、李健等毕业于清华大学的音乐人一一登台,为母校生日献唱。其中高晓松演唱经典校园歌曲《同桌的你》,李健演唱他的代表作 《传奇》。
SOURCE: SINA.COM