Jackie and the Seven Little Fortunes attended the Opening Ceremony for the Xinghua Qiandao Rapeseed (Canola) Flower Tourism Festival today. Source from SINA microblog are on the photos.
Rapeseed (Canola) flower festival to commence in Xinghua

The third annual Xinghua Qiandao Rapeseed Flower Tourism Festival, featuring a number of springtime-related cultural activities, will kick off in Jiangsu Province on Sunday.

The highlights of the festival include a large-scale performance on the opening day and sightseeing in the Qiandao Rapeseed Flower Scenic Spot and Wujindang Wetland Park, according to the local officials.

Compared with the first two festivals, which drew 100,000 and 480,000 visitors, respectively, the third one is expected to attract one million tourists over the course of a month, with improved transportation facilities and catering services ready to handle the influx, Geng Qi with the Xinghua Tourism Bureau told the Global Times.

Since the second festival, the bureau has been making efforts to improve services in the major scenic spots, Geng added. The park is capable of providing catering for 5,000 tourists at once.

Besides sightseeing in the rapeseed flower scenic spot, whose core area occupies a total of 5,000 mu (333.3 ha), tourists can also enjoy dragon boat racing and traditional Chinese wedding and gourmet festivals.

Located in central Jiangsu, Xinghua, with a history of more than 2,300 years, enjoys a reputation for its historical sites and abundant natural resources.
The Canola fields are in full bloom and attract many visitors to the beautiful scenery.
SOURCE:
EN.HUANQEI.COM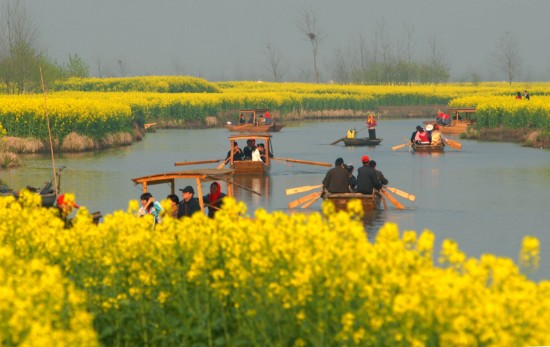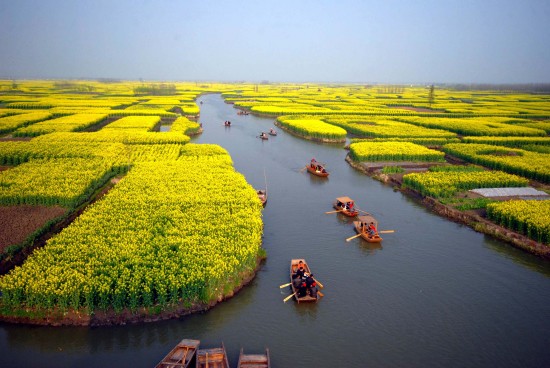 SOURCE:
ENGLISH.DBW.CN