Jackie is (of course) the Ambassador for the Canon Expo in Shanghai. He gave an interview today which I have quoted below. The Expo runs from 19.5.11 to 22.5.11 in Shanghai.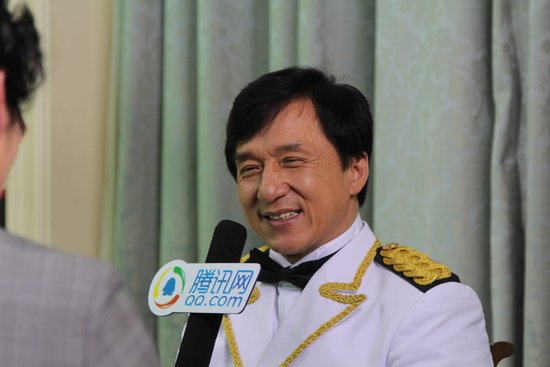 Canon Expo 2011 Shanghai - Interview with Ambassador Jackie Chan

Jackie Chan loves photography, the camera almost every day to leave the body. Can inspire creative inspiration when I see the action, scene, he would take pictures with the camera, the audience works in the Jackie Chan film see the special action, props, costumes, etc., are based on his computer in the photo material retained evolved, the camera can be said to Jackie Chan as an important tool to absorb knowledge. In addition, Chan also love to shoot like animals, clouds and other natural features.

Jackie Chan Zhong Aijia energy, he is still very early collection of Canon products. He said half-jokingly, that is a very valuable camera, have the opportunity, he may get the first generation of Canon Internet to sell, sell Canon. The Canon's high-quality service, advanced technology, ergonomic design, and so are the reasons for Chan select Canon cameras, while Canon has always been committed when he found the field of innovation research, such as the medical technology and high quality Su effective integration of technology imaging technology, etc., but also allowed him to have a deeper understanding of Canon.

Chan said the world is now more and more attention to China's every move, although he do not understand the economy, but to take his own experience is concerned, the past is to find someone they want to fly abroad to talk about cooperation. Now, people from around the world flew to China to take the initiative to their movies. Therefore, he believes we should cherish this opportunity, to live up to expectations, the basic things we do. Jackie Chan film requires a lot of high-quality equipment, whether it is the camera Ye Hao, Ye Hao cameras. He said he envisioned using the Canon camera to image photographed at the same time to break out with a photocopy machine, do the first array, so that we very specifically what he thought. As a result, filming went more smoothly. And he felt that we should with an open mind, to meet people from different worlds come to China to make a film, or cooperative and learn knowledge and progress.

Canon in Shanghai, China for the world exposition held in 2011, Chan was valued, he called (encourage) people together to visit, study, it is important to go to understand the application and the invention of the Canon it created. Maybe, you will also find him when visiting this fair



---



腾讯专访2011上海佳能博览会形象大使成龙

成龙爱摄影,相机几乎天天不离身。每当看到可以激发创作灵感的动作、景像,他都会用相机拍摄下来,观众在成龙的影视作品中所看到的特别的动作、道具、服装等等,都是根据他电脑中所留存的照片素材演化而来的,相机可以说是成龙吸收知识的一个重要工具。除此之外,成龙还喜欢拍摄像动物、云等自然的景物。

成龙钟爱佳能,他现在还收藏有佳能很早期的产品。他半开玩笑地表示,那是一部很值钱的相机,以后有机会的话,他可能将佳能的第一代拿上网来卖,卖给佳能。而佳能的高品质售后服务、先进的技术、人性化的设计等等都是成龙选择佳能相机的原因,同时,当他发现佳能始终致力于对创新领域的研究,如把医疗技术和高质素影像科技有效融合的技术等等,也让他对佳能有了更深层次的认识。

成龙提到,现在世界越来越关注中国的一举一动,他虽然不懂经济,但拿他自己经历来讲,以往都是他们要飞到国外找人谈合作。而现在,人们从世界各地飞到中国来主动找他们拍电影。因此,他认为大家更应珍惜这样的机会,要争气,把我们基本的东西做好。成龙拍摄电影需要大量优质器材,不管是相机也好,摄像机也好。他说他会使用佳能相机把设想画面照下来,同时用影印机打出来,做头阵,让大家非常具体地明白他的想法。这样一来,拍摄过程变得更加顺畅。而且他觉得,大家应以开放的心态,去迎接來自不同世界的人来中国拍电影,或者是合作,从中吸取知识,不断进步。

对于佳能这次在中国上海举办2011全球博览会,成龙十分看重,他号召(鼓勵)大家一起来参观、学习,重要的是要去理解佳能的发明应用和它所创造的东西。说不定,你还会在参观这次博览会时发现他
SOURCE:
OPENVOIP.CN
You can read a message from Jackie
HERE
on the Canon website.