On 17 December CCTV6 in conjunction with JCCF and China Social Assistance Foundation hosted the premier charity auction for the 'Believe in Love' initiative. The "Believe in Love" initiative is a platform to utilise the star power of the movie industry to draw to promote and support charity. The auction raised a total of 14.78 million RMB. Jackie donated a scarf (signed by himself and Will Smith) and a chair. The scarf sold for 1 million RMB, the chair for 2 million RMB and Jackie donated a matching amount of 2 million RMB.
Funds from this event will go to JCCF (Build a School) and for their program to provide medical treatment for underprivileged children. The amount raised will provide medical treatment for approximately 200 children.
One of the items included a full size replica of a space suit.
SOURCE:
ENT.XINMIN.CN
Jackie on the red carpet arriving at the auction (+slideshow of other photos on link)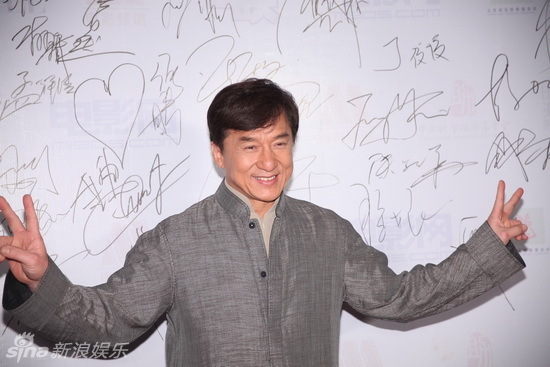 SOURCE:
SINA.COM
"Believe in Love" Charity Auction Opening. Jackie sings the theme song.
You can see the music video
HERE
There is a
video of Jackie, Lucky 7 and other artists singing at the auction
here.
SOURCE:
M1905.COM
Jackie shows off the scarf that he designed himself.
SOURCE:
M1905.COM
Jackie demonstrates the merits of his chair and the buyer (unnamed) takes a seat.
SOURCE:
M1905.COM
The little girl in blue in these photos is Xiaohua. She just had surgery for a congential heart defect. You can see photos of her
visit to Jackie on set of "Chinese Zodiac" here
.
SOURCE:
M1905.COM